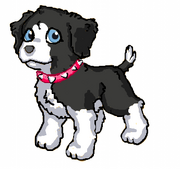 Mandy is the second youngest of Angela and Mitch's children and is a mixed breed of Retriever and Border Collie. She adores her Uncle Willis' treats, which she and Sandy earn the most out of the children for their good behavior. Mandy and her sister are the best students in Bella's class, but that doesn't keep her from swearing outside of school.
Eva attempts to exact revenge on her out of jealousy when she sees how much Willis and Bella like her. She comes out of it all right, but Zull and Gort still blame themselves for not being there to protect her.
She, along with the rest of her sibilings, eventually got tired of cursing, and realized it's very bad for them. Numerous pets told her that her mother should not tolerate her and her siblings cursing.