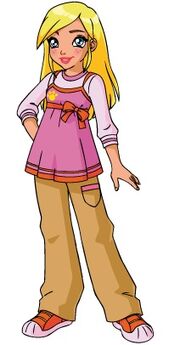 Kate
was a normal school girl until
Eva
sends
Ava
into the Big City, which transports Kate into
Pocketville
. She and her dog,
Magic
, were completing Friendship Ceremonies, found Ava and returned her place to the Tomlin throne.
Character profile.
Full name: Kate
Gender: Female
Born: (unknown)
Age: 12
Place of birth: Rome, Italy
Homeplace: Rome, later the Big City
Hair: Blonde
Eyes: Blue
Personality: Caring with a big kind heart
Affiliates: Good
Likes: Her friends, her family, visiting Pocketville
Dislikes:Evil Kitty, the Pet Buster
Relationships
Realtionships: Kristijan Matijević (best friend), Magic (best friend), Panda (best friend), Shirley The Loon (best friend), Michael (brother), Ava (best friend), Wallace(best friend), Maggie (friend), William (friend), Mela (friend), Danny (friend), Balloon (friend), Eva (friend), Skippy/Ravage (friend)
Kristijan story
After the homecoming, Kate kept the Friendship Heart and Ava had the new Ocean of Friendship. Later,Kristijan appears in Pocketville unknowingly. Eventually, they fell in love.One day,Kate and Magic see the Friendship Heart flash an S.O.S. signal.They go to Pocketville on Kristijan's ship USS Voyager towards the Pyramid of King Pocketvillus. Then Evil Kitty appeared with her vessel and communicated with Kristijan and his friends on-screen.Evil Kitty wants to plot Kate and get the Friendship Heart once again and also sabotage Kristijan and the others, even Voyager itself. However, a transphasic torpedo destroyed Evil Kitty's ship.Few weeks later, when Kristijan and Panda visited, the Pet Buster returned. However, Kristijan was already aware of this and won with his karate.Soon in Pocketville, Kate and Shirley meet and find out that they are both love interests of Kristijan but don't argue and become best friends.
After the homecoming events
She lived happily because her mother came home, but this was a bit of a problem because she rarely had the chance to go to Pocketville, because her mother gets suspicious easily. She has a normal life and sometimes visits Pocketville. Sometimes she and Magic play tricks on each other because it's funny. She has boys like Kevin, Kristijan, Liam X and Santi X who always flirt with her, but she isn't able to fall in love with any of them yet because she's only 8. She only accepts them as friends.